LBS Suite at GALA Munich 2019
Bruno, the CEO has recruited Christine and Anna who joined respectively our LBS Suite team December 2018 and January 2019 . They both have been recruited to develop the international market.
GALA, the Globalization and Localization Association is the first conference where they will be representing LBS Suite. For the occasion, they made a video to announce their participation.
Discover the video of Anna and Christine posted on LinkedIn and YouTube for GALA Munich 2019!
GALA Munich Conferences bring together leaders in the globalization and localization sectors to allow them to exchange contacts and knowledge about their business sector. The participants focus on linguistic technologies, sales models and emerging trends in the translation, localization and interpretation sectors.
You will find LBS Suite team, Anna, Bruno and Christine at their booth in the Ballroom Foyer on the 1st floor, booth number 4. Find our team there and ask them about LBS Suite.
LBS Suite is organizing a prize drawing, so make sure you come to the booth and drop your business card 🙂 In addition, you can grab a little coffee to go!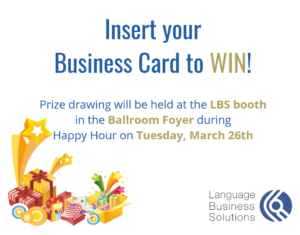 Article edited March 29, 2019.
GALA Conference has been a success! We discuss with many peers in the industry that were happy to see new actors in the industry.
After all, we can say that we did the right choice to launch LBS Suite on the international market.
We announced our prize winner at LBS Suite booth but this person was missing! But we finally found her, it was Marta Zalewska
In conclusion, here below some picture of the event!