Relax, we're always here to help
---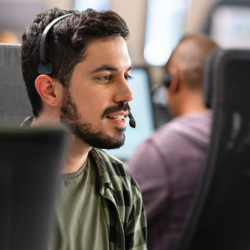 By choosing LBS Suite, you're also choosing a high-quality, responsive technical team. Contact our technical support with any issues and receive quick, precise help.

We offer a constant support model!
We are aware of the strategic importance of a solution like LBS Suite for a translation business or department, so we offer a constant support model thanks to our instant message ticket service: e-support.
Send your question and receive a detailed response in minutes. When necessary, our team will connect with you and guide you through the best process to have.
E-support covers both technical issues and questions about how to use LBS Suite. We're always here to help.
Our support will answer your question within a half-day. In case of emergencies, we will do everything we can to react even more quickly.
The essential goal of technical support is to never leave you facing a problem alone. We always find a temporary or permanent solution to any situation, so you can continue working with peace of mind.
Contact us to learn more about our solution! You can also find us on LinkedIn and Youtube, where we post all the latest LBS news!