LBS Suite is evolving according to your needs
---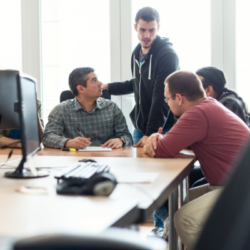 Your opinion matters to our developers: that's the principle behind our Development Partnership service. Your ideas might just shape the next version, so don't hesitate to share them with us!
Our Development Partnership means listening to your ideas
---

Our R&D department is

constantly improving LBS Suite. You can do the same!
Thanks to our Development Partnership, we're listening to your new ideas and your needs for new functionalities.
You can contact our team to submit new functionalities or changes you wish to have. Our team will gather all similar suggestions, enhance it, and design a global solution to fit your specific need as well as other potential needs fitting other clients too.
We always start analyzing your suggestions upon submission, and if possible, we integrate it in priority into our developmet program.
You'll find them in the next version, free of charge. You benefit from our full cooperation!
If you have specific needs, of course we can support you to create customized developments.
With LBS Suite, you're more than a client: you're a partner!
Contact us to learn more about our solution! You can also find us on LinkedIn and Youtube, where we post all the latest LBS news!